In partnership with Playtop® and Nike Grind®
CVS is delighted to offer the most innovative, premium sports and playground surfaces in North America. Thanks to Shercom's partnership with Playtop and Nike Grind, the rubber product we install is repurposed from Nike products and tires. It's not just sustainable, it's UNSTOPPABLE!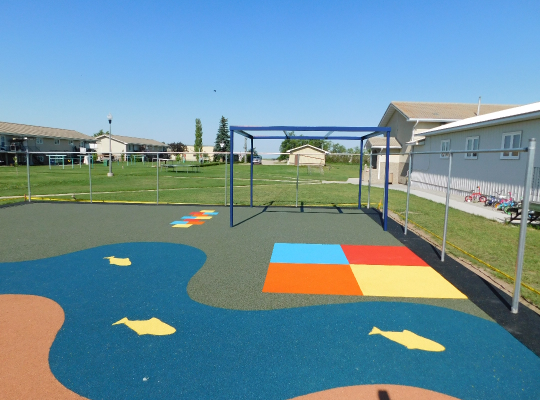 In collaboration with Playtop and Nike Grind, Shercom's SHERPLAY® surfaces have been developed through superior science and rigorous testing. Safe, accessible, and durable, our playground surfaces can be customized to any spec and come in a variety of fun-enhancing colours. We've worked hard to develop a reputation for delivering safe and enjoyable public spaces to local communities, and we're proud to build on that legacy by offering SHERPLAY®.
Trusted, Locally-Recycled Product
CVS Rubber Paving is proud to use Shercom surfacing products on our installations.
Poured in place, SHERPLAY® doesn't have the migration or thinning issues of loose-fill. Our long-lasting surfaces require minimal maintenance and cost for replacement fill. Additionally, they are completely accessible and not prone to freezing.
CCPI Certified
ASTM F1292-01 For Fall Attenuation
ASTM D1148-13 for UV stability
Fungal and Bacterial resistance
Anti-slip properties for safer play
About Playtop by Nike Grind
Made with recycled Nike shoes and surplus manufacturing scraps, Nike Grind is a unique, sustainable, high-performing material that can be used to create colourful wearing courses for recreational spaces.