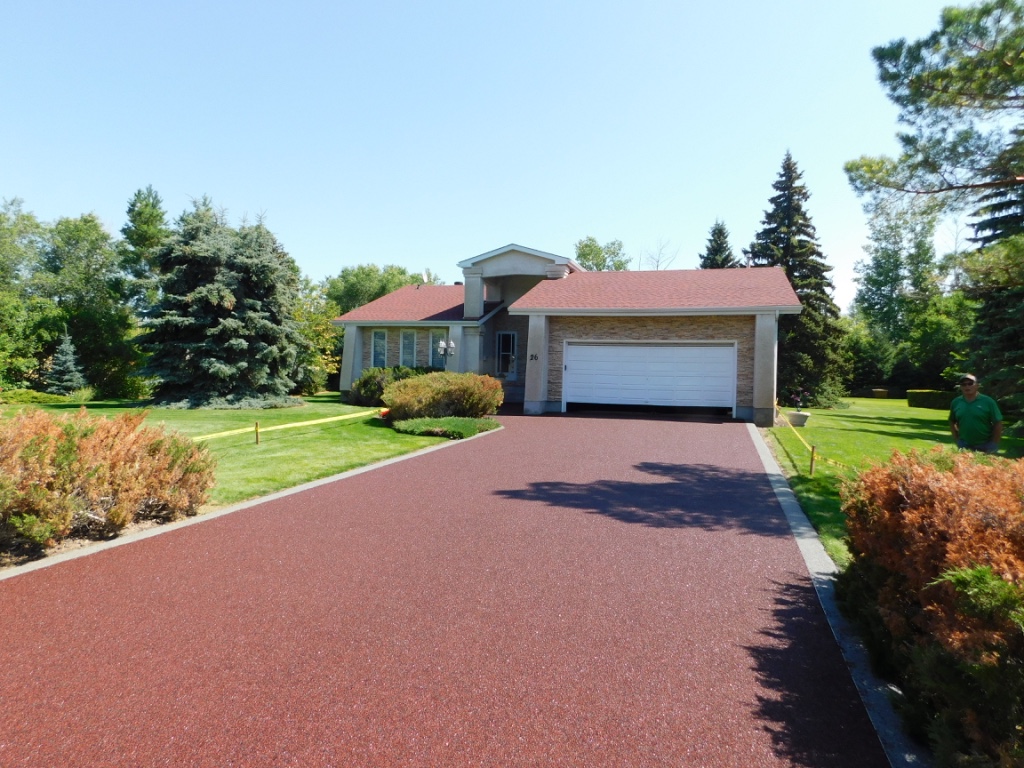 CVS Rubber Paving is a multi-generational, family-owned and operated business. We've been proudly serving Regina and area for more than 20 years.
CVS Rubber Paving holds steadfast in our commitment to our customers by offering a locally sourced and environmentally friendly product, backed up by quality workmanship. Shercom Industries – Saskatchewan's only fully-integrated tire recycler – provides the product for our rubber surfacing installations. From manufactured products to pour-in-place projects and safety surfacing, we offer a variety of alternative surface solutions to meet your needs.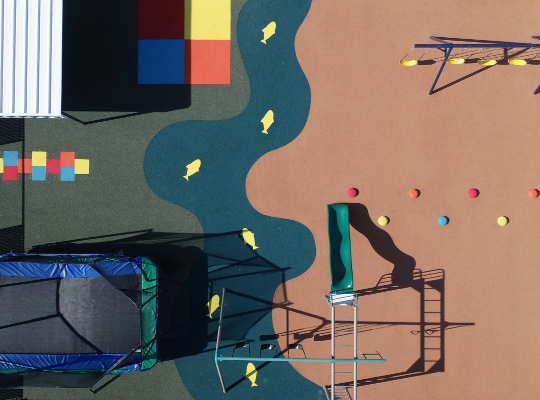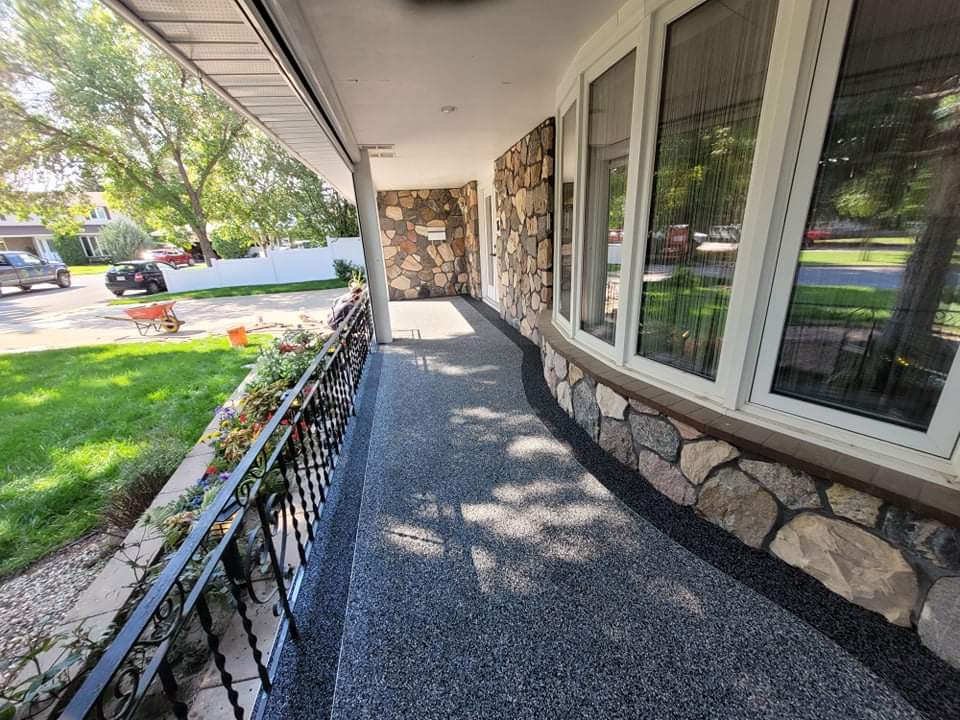 We are fully licensed and insured. Additionally, CVS Rubber Paving values accountability and durability by offering a one-year limited warranty on labour and materials and a five-year limited warranty. We are CCPI certified and an accredited installer of pour-in-place playgrounds.
Frequently Asked Question
How does rubber paving handle winter?
Snow removal is much easier with rubber paving! Rubber paving maintains a slightly porous, textured surface which affords two advantages for Canada's harsh winter snow and ice. Firstly, water does not pool easily on the surface, reducing the thin layer of glare ice that is the cause of many falls and injuries.
Secondly, for heavier snow/ice layers, the textured surface makes it easier to scrape than concrete, where the bottom layer of ice adheres tenaciously. If needed, it is safe to use salt or any other de-icer. We recommend using a plastic shovel and outfitting your snow blower with plastic stripping.
Can you install it overtop existing surfaces, like gravel or asphalt?
Yes! The rubber surfacing is typically installed over sub-surfaces such as concrete, asphalt, paving stones, or compacted granular. Some applications have a varying substrate that requires proper base preparation. Typically, any solid surface is okay to surface. You don't need to remove your old asphalt or concrete surface to apply rubber paving over, which is potentially quite cost-saving.
How long will it last?
Shercom has rubber surfacing installations that have been around for more than 20 years, and they are still looking great! Rubber paving is a very durable product.  The first rubber-paved driveway was installed by Shercom Industries in Saskatoon in 1998, and it still looks as good as the day it was applied! With a little care and attention, plan on your Shercom rubber surfacing lasting a very long time.
Can I use rubber surfacing for indoor floors?
Absolutely, provided you have a water drain underneath.
Can rubber paving surfaces be repaired if needed? Is there a warranty?
Any accidental rips, tears, damage, or stubborn and unsightly stains can be repaired by cutting out the damaged area and re-apply new rubber. We can also provide a maintenance coating that helps re-bond the whole surface.  We offer a 1-year warranty on labour and materials and a 5-year limited warranty.  *Warranty is void if the damage is determined to be due to misuse, abuse, or vandalism.
How do I clean rubber surfaces?
Rubber surfacing can be cleaned using a power washer to deal with any spills or stains. We recommend using a light detergent and ensuring the power washer operator does not put the nozzle too close to the surface. High-powered washers can take the paint off a car at too close a range, so be careful not to be too aggressive.
How do I maintain rubber surfaces?
Adding a fresh coat of binder every five to seven years is all it takes to maintain your rubber paving product. We can apply this for you or provide a do-it-yourself kit. This will give the rubber that beautiful shine it had when it was first completed. It prevents flaking or pebbling of the rubber and re-strengthens the surface.
How long is the installation process?
Our expert installers can complete most residential projects within one business day. However, completion timelines are dependent on weather and the scale of your project. Upon completion, projects are open to foot traffic in 24 hours and drivable within 72 hours.
Are rubber surfacing products toxic?
No, which is why it's used for playgrounds! Rubber paving and rubber mulch are 100% non-toxic and safe to use in your gardening and home.
How much does rubber paving cost?
Each job is different and depends on the cost of the quantity of material required, selection of colours, required designs, and some other factors. Regardless, you can consider rubber paving to rank second in cost after asphalt, and to be less expensive than both concrete and interlocks. You may also want to factor the savings on surface preparation into your equations, as you do not need to remove your old surfaces prior to rubber paving.
What is your booking process?
We are committed to exceptional customer service by using the following steps:
Contact CVS toll-free at 1 (800) 667-8083, Locally call (306) 352 5908 email cvsrubber@sasktel.net, or fill out our form for your free quote.
A knowledgeable estimator will contact you to set up a visit that suits your availability.
Quote will be provided.
Colour samples made available.
Deposit due upon booking.
A tentative time frame will then be given for project completion. Weather-dependent.
Do you offer financing?
CVS, through Shercom's agreement with Vista Financial Services, can now offer Flexible Financing Solutions! Environmentally-friendly products are important, and so is how you choose to pay for quality home improvement upgrades. Monthly payment plans help you enjoy your beautiful new driveway and landscaping without the burden of paying thousands of dollars at once. We offer the flexibility of 5, 12, or 15-year term options that you may choose to prepay at any time without penalty.
CVS works 12 months a year. When we can't install rubber paving because of temperature or inclement weather, we turn our attention to snow clearing. No matter the surface or space, we'll restore functionality with quick, efficient seasonal maintenance.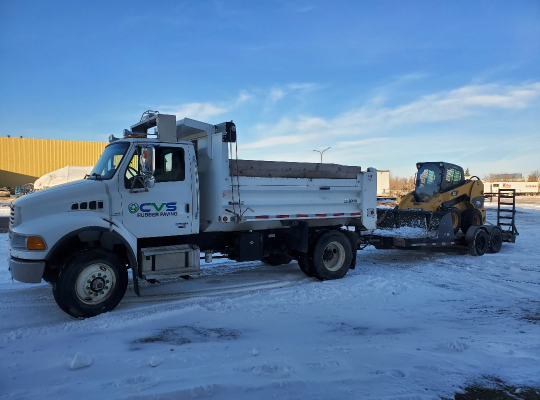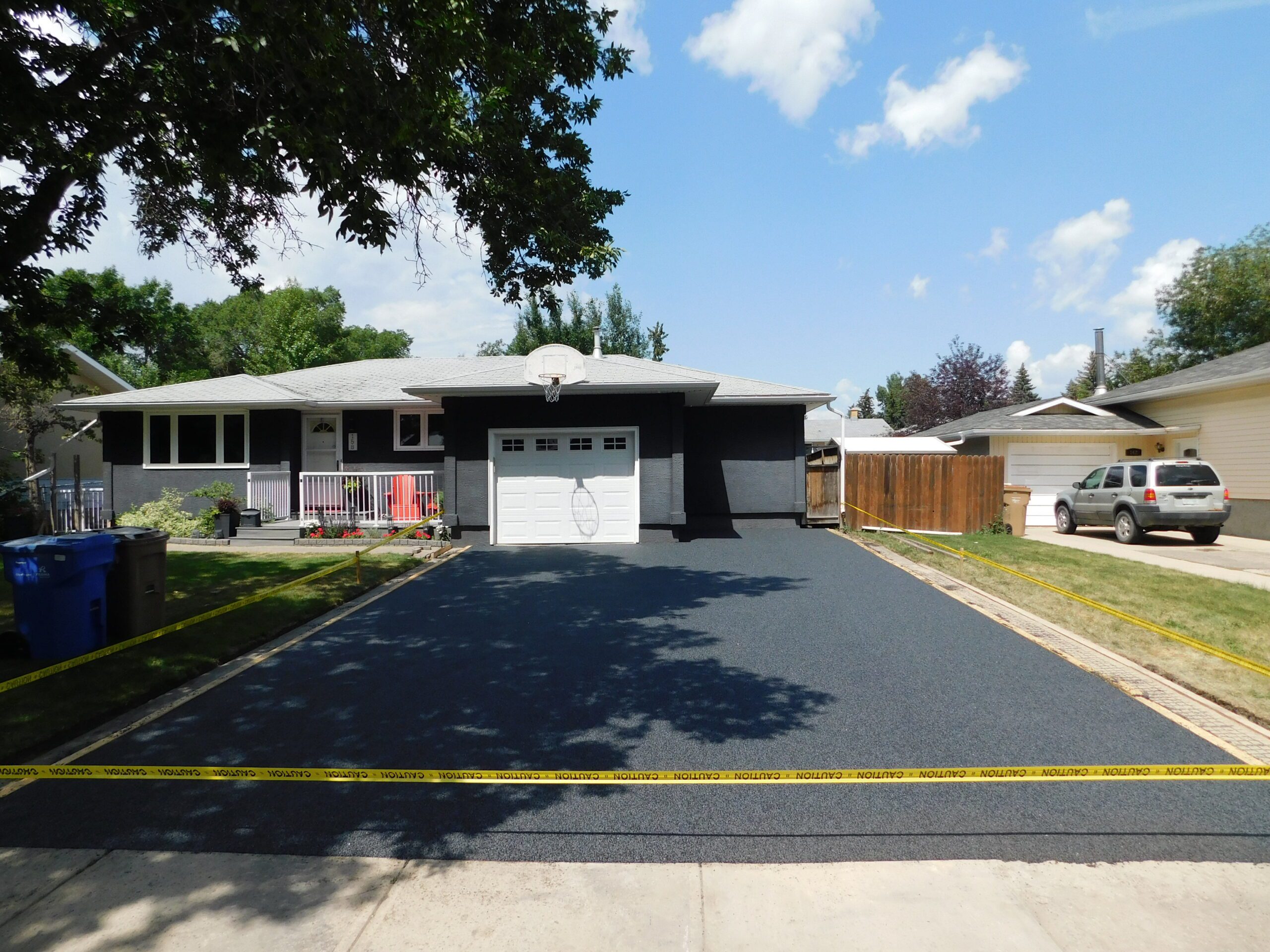 We use Shercom's trusted rubber paving products on all our installations.